EZoutboard eXtreme EZ-X20 (11.5 KW)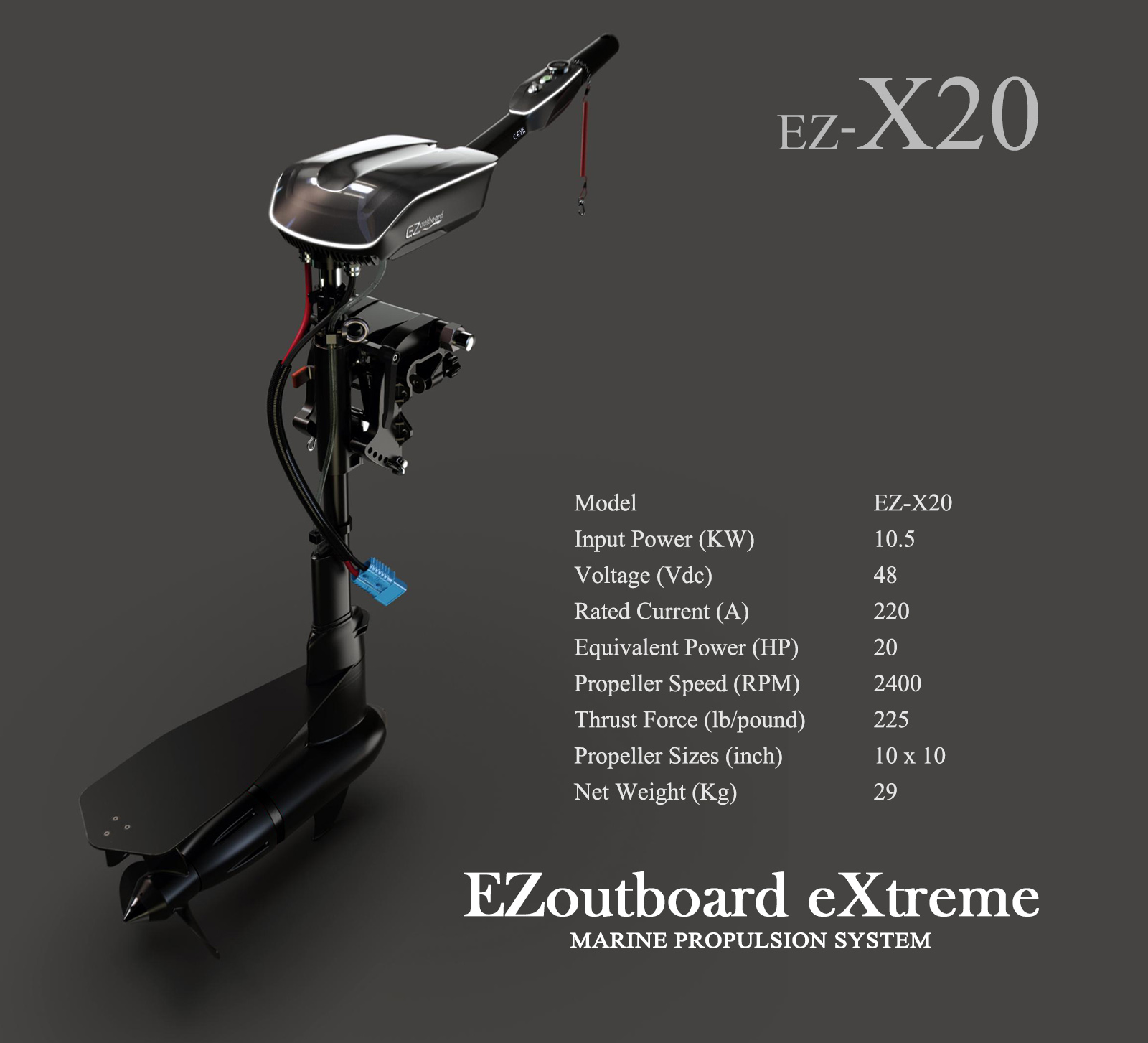 MOX9 Marine Motor
No Brush. No Gear. No Moving Seal. Less is More.
Our latest X-series EZoutboards are now powered by the all-new patented Goldenmotor MOX9 Gearless & Brushless DC motor. 9 years of research and development spent in the pursuit of a brushless and gearless design has finally paid off. Now you can say goodbye to unwanted friction & weight and say hello to free extra mileage. Rated at IE5 (Ultra-Premium Efficiency), the MOX-9 motors will squeeze more miles out of your battery pack.
Contact-less Transmission
No Seal. No Gap. No hassle. 10,000 hours.
We thought you'd love to spend more time boating and less time doing maintenance, so we took water seals out of the equation. The MOX9 Marine Motor is designed to last up to (and probably more than) 10,000 hours maintenance free. BUT HOW? Introducing our revolutionary patented MAGPROP™ technology, our propellers are driven via electromagnetic induction, enabling our motors to become truly seal-less and maintenance-free, good for Non-Stop Commercial Use.
Swift & Silent
Hi-Speed. Low Noise.
With up to 20 horsepower and shaft speeds of up to 2600 RPM at your disposal, the X-series will get you where you want, except much faster. Our propellers are designed to be able to handle all that power while also being extremely efficient. Don't want to scare the fishes away? Our MOX9 motors are manufactured with high precision machinery, remaining ultra-silent even on full throttle SportMode, they'll never hear you coming.
Need More Power
Add more. Link it. Get more.
Got a bigger boat? Need more speed? We've got you covered. Achieve up to 80 horsepower (4*20HP) by simply linking up to 4 EZoutboard X-series in parallel drive with our new EZlink scalable interface. To maximize power efficiency, simply switch between single-drive EcoMode or multi-drive SportMode with the push of a button. EZlink gives you the ultimate flexibility by allowing you to selectively power up or down individual outboards, without ever going through the trouble of physically un-linking them.
Zero Emissions
Clean Water. Happy fish.
Now that the world is more aware of environmental protection, electric propulsion has undeniably become more relevant than ever. Goldenmotor products are developed with nature's best interests in mind. We love our planet, and we invite you to join us in the push towards a cleaner and more sustainable environment for ourselves and posterity. Choose electric, make a difference, switch to the EZoutboard X-series today!